Polishing Compounds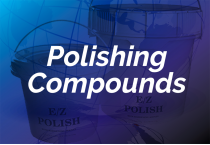 ---
Ready-mixed polishing paste for marble, limestone, and terrazzo floors
Easy-to-use, non-etching, in non-noxious odor
Easy clean-up
Available in 10 lb. and 25 lb. containers
A one-component polish for granite and marble floors
Use on any color granite
Works with regular steel wool pads on a 175-300 RPM buffing machine
Available in 1 quart containers, or a 6 quart case
---
Stone Polishing Compounds for Sale
When you have natural stone floors, such as terrazzo, marble, or granite, you've invested in having them installed, and you want to protect that investment as well as keep them looking their best. However, foot traffic, dirt and debris, and even improper cleaning products can leave them looking dull, drab, and scratched. To help you restore your natural stone floors, we have high-quality polishing compounds that get the results you want.
Polishing a stone or concrete surface isn't just to improve the aesthetics of the surface. Stone, such as granite or marble, is highly porous and prone to staining. By polishing the surface, this closes the stone and reduces its ability to absorb liquids that could stain and damage the material.
Why Choose Polishing Compounds for Stone Floors
Polishing compounds are a paste-type of substance or a powder that is mixed with water to create a paste. Within the powder is a fine abrasive substance that is then buffed into the stone using a floor buffing machine to smooth any surface flaws, remove surface stains and scratches, and restore a beautiful luster. This is a key part of any stone floor maintenance program and extends the time between mechanical, multi-step polishing.
Polishing compounds from Substrate Technology offers the following benefits:
Easy to use
No noxious fumes or odors
Extends the lifespan of your stone, terrazzo, or marble floors
Easy to clean up
Non corrosive formulas prevent etching and other damage
Works with a 175-300 RPM floor buffing machine for best results
Works with all colors of granite, marble, and terrazzo.
Even years of wear and tear can be reversed using a high-quality polishing compound in conjunction with the proper equipment.
Order Your Polishing Compounds Today
Substrate Technology offers a wide selection of polishing compounds. To learn more about our options or to order your polishing compounds, reach out to us today at +1 (815) 941-4800 or complete our contact form.